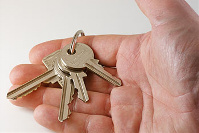 It doesn't matter what locksmith services you need for your home, you will always need a mobile locksmith. After all you can't bring your house to the local locksmith shop. All kidding aside our mobile locksmiths are available 24 hours a day ready to give you the locksmith services you need for your home.
Like helping you deal with a home lockout. One of the most requested locksmiths services is home lockout rescue. So our mobile locksmiths are highly experienced on handling your home lockout, and will arrive at your home promptly, confirm your identity by asking for ID (to ensure not just anyone can say let me in that house and get in to your house without permission) and then open that door lock to give you access to your house as fast as possible.
Once he's opened the door lock and fixed the home lockout, if you lost your house key the mobile locksmith can make you a replacement house key and even rekey your door lock to make sure the old house keys don't work on the door locks ever again.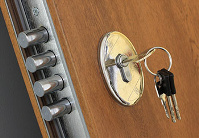 All of our mobile locksmiths are able to make you house key copies with our state of the art key maker machine. Which can make as many copies of the house key as you want, fast.
And the key maker machine does make some very accurate keys that are extremely durable. And having one of our mobile locksmiths make you a house key copy sure beats going to "wally-world" (or your local mega department store) walking all the way to the back and having someone who is clearly not a locksmith make that copy for you.
Our mobile locksmiths can also help you with your door locks. It doesn't matter if your door locks are getting old and need fixing or replacing. Or if your door locks break and create a home lockout. Or anything else. As our mobile locksmiths are trained and equipped to handle any problems your door lock throws your way. So that you can focus on life.
And with our mobile locksmiths being available 24 hours a day, your door locks acting up at 4:34am or else is irrelevant. So whichever locksmith service you need for you home give us a call right now to 858-256-6846 and we can have one of our mobile locksmiths dispatched to your home right away.